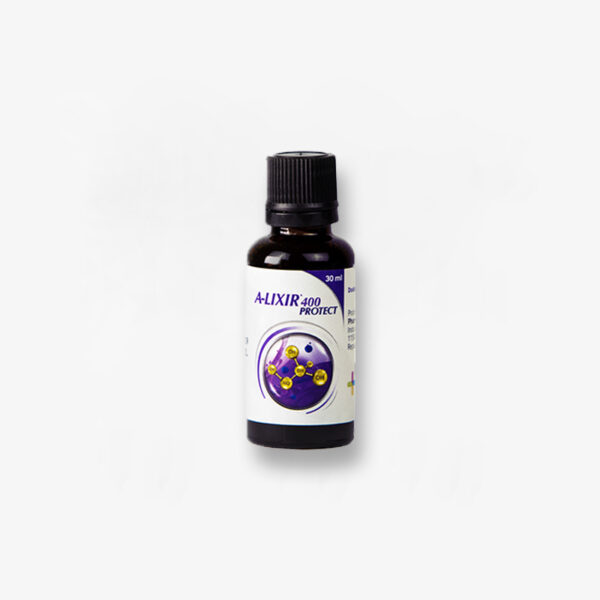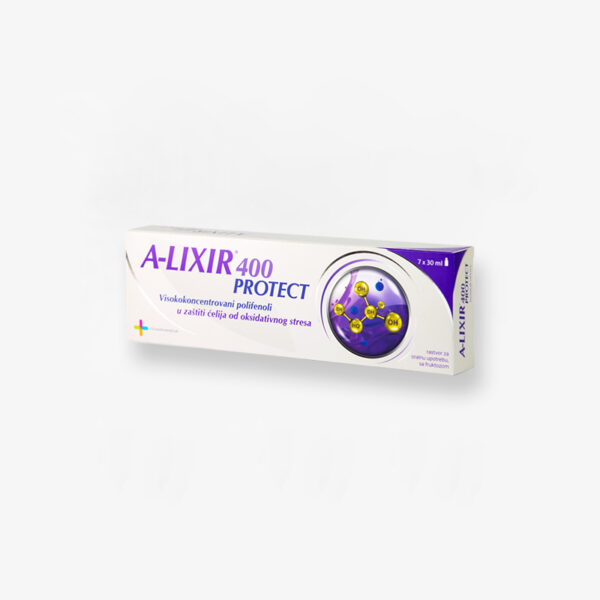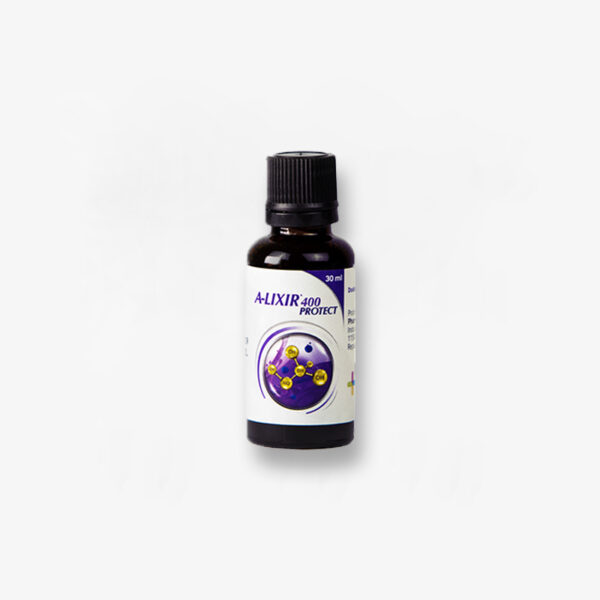 In stock
A-LIXIR®400 PROTECT
€22.99
Food additive based on polyphenols from Liquid Arania fruit extract (chokeberry) of Siberia. An advanced extraction process ensures a standardized and concentrated extract is obtained, allowing 400 mg of polyphenols to be consumed through a single dose of the product in a small volume of 30 ml.
A-lixir® 400 Protect is a polyphenol-based nutritional supplement from liquid chokeberry fruit extract that helps protect cells from free radical damage caused by oxidative stress.
Description

Additional information

Reviews (0)
Alixir 400 Protect
Informacion i pergjitshem i medikamentit
Një mjet i fuqishëm në parandalimin dhe trajtimin e sëmundjeve të shkaktuara nga stresi oksidativ në një dozë ditore
Ulje eBMI dhe peshës se trupit
Ulje e infiltrimit të acideve yndyrore nga melcia
Rënia të presionit sistolik dhe diastolic të gjakut
Rritje të niveleve të hekurit, hemoglobinës dhe numërimit të qelizave të kuqe të gjakut
Rritje të niveleve të hekurit, hemoglobinës dhe qelizave të kuqe të gjakut
Reduktohen radikalet e lira me vlera të enzimës antioksiduese të rritur
A dose of ALIXIR® 400 PROTECT ensures the intake of 400 total polyphenols, of which anocyanins are 4-13 times higher than the average daily intake of food in developed countries – EU and USA (4.5). Protected extract, 4658-TD, used in the manufacture of ALIXIR® 400 PROTECT, is derived from a process based on continuous subcritical extraction of Arania tree fruit (chokeberry) with a sophisticated concentration process.
Package:

One box contains 7 bottles of 30 ml each

Usage:

Drink the contents of a 30 ml bottle once a day in the morning, after meals.

Duration of use:

Athletes, as well as persons engaged in sports activities:
one bottle a day for 1-2 months continuously, both during the preparation period and during active sports activities during the competitive season. It can be repeated 2 to 3 times a year, with a break of 2 months each time. Healthy people, against oxidative stress in conditions caused by it: maintaining the strength of the body's immunity, maintaining cardiovascular health, helping to maintain the metabolic functions of the liver, helping with anemic conditions – take a bottle every day for 7 days in a row in month. The administration can be repeated every month, for periods of 7 days each.