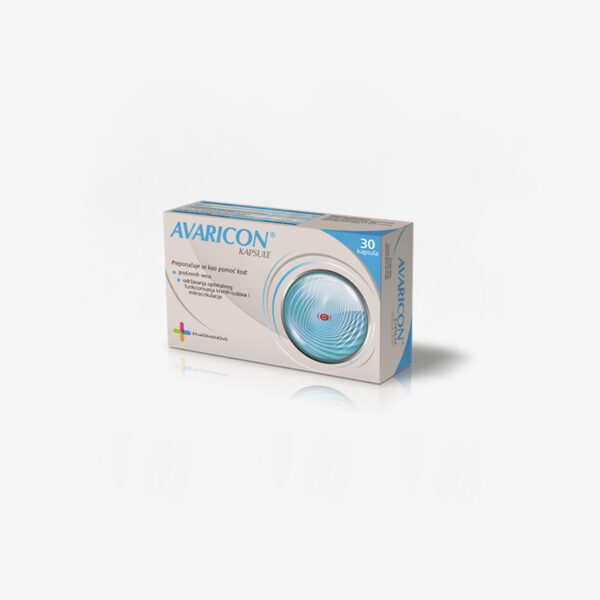 In stock
Avaricon® Capsule
€22.99
Avaricon is used to treat the symptoms of chronic venous insufficiency (HVI) and acute hemorrhoid syndrome.
RECOMMENDED FOR:
Pain, swelling, feeling of the feet
Help for varicose veins
Helps maintain optimal vessel function
Blood and microcirculation
Description

Additional information

Reviews (0)
Avaricon® Capsule
Informacion i pergjitshem i medikamentit
AVARICON® is a combination of natural active substances that can affect the maintenance of optimal vascular function and microcirculation. Standardized seed extract of Japanese pomegranate tree contains rutin in high percentage (min. 95%) which is the most important component of bioflavonoid complex or vitamin P. Rutin improves circulation, has a positive effect on the elasticity of capillaries and their permeability. As an antioxidant, it increases the activity of vitamin C. In this way, it can help reduce the unpleasant symptoms of swollen feet. The active ingredients of the standardized extract of Centella asiatica dried leaves have positive effects on connective tissue development and metabolism and contribute to vein health. Standardized Ginkgo biloba leaf extract improves blood flow and microclamation.
Package:

30 Capsule

Usage:

Adults:
For the first two weeks, three capsules a day after meals. Then continue to take one capsule twice daily after meals.
Continuous use of the preparation for at least 6-8 weeks is recommended. Food supplement can not be used
as a substitute for a varied and regular diet. The recommended daily dose should not be exceeded.
Chronic venous insufficiency:
This therapy achieves the best results when combined with healthy living habits. The patient should be advised
avoid exposure to the sun, heat, prolonged standing and weight gain. Walking and dressing e
special vein stockings accelerates venous circulation.
hemorrhoids
If the signs of acute hemorrhoid syndrome do not resolve within 15 days, the patient should seek medical advice
or pharmacist.