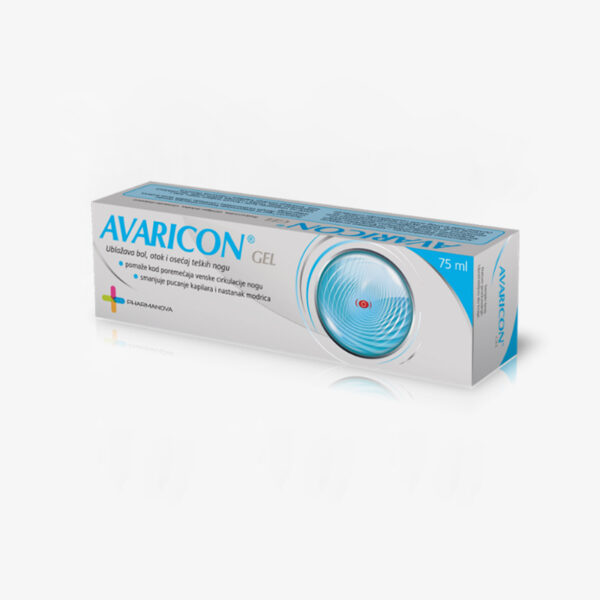 In stock
Avaricon® Gel & Cream
€22.99
WALK EASILY
Eases all the problems caused by disorders of venous circulation
Varicose Veins
Painful and swollen legs
Frequent cramps and a feeling of heavy legs
Broken capillaries
Bruises and sports injuries
Description

Additional information

Reviews (0)
Avaricon® Gel & Cream
Informacion i pergjitshem i medikamentit
WALK EASILY
Varicose Veins
Painful and swollen legs
Frequent cramps and a feeling of heavy legs
Broken capillaries
Bruises and sports injuries
Avaricon ® gel or cream are containing a combination of natural active ingredients that are reducing the problems developed as a result of disorders venous circulation in the feet, swelling and pain, cramps, paresthesia, and feeling of heavy legs.
With regular use, preparation leads to reduction in symptoms, facilitate walks and vitalization of the skin and blood vessels of the legs. Avaricon ® gel / cream is applied with soft tissue injuries of the legs (hits , sprains), which are accompanied by swelling, pain and bruising.
Formulation Avaricon cream is enriched with panthenol that is particularly suitable for use on dry and cracked skin that needs extra care and moisturizing.
Ingredients:

Avaricon gel – Troxerutin, Centella asiatica, Ginkgo biloba
Avaricon krem-Troxerutin, Dexpanthenol

Packaging:

tube 75 ml

Way of use:

Apply a thin and even layer 2 to 4 times a day on foot painful areas with light massage, from the bottom up; product can be used under bandages, elastic stockings and socks.